Our contemporary fight to eliminate sexual assault, domestic violence, and child abuse has its roots in the justice and liberation movements of the mid-20th Century. Fundamentally, this kind of activism is about asserting the dignity of all people. Our movement embodies the same spirit that lives in the fights for women's rights, LGBTQ+ equity, racial justice, and so many more. At its core, this work is about understanding power, how violence is used to boost power for some and diminishes power for others, and when certain types of violence are enacted against collectivized groups, it functions as a form of social control. Using (and abusing) power and violence in this way often begins with devaluing human life, leading to marginalization, disenfranchisement, limited opportunities, and other social inequities.
For nearly a decade, ValorUS (formerly the California Coalition Against Sexual Assault) expanded its efforts to highlight sexual assault as both a product of, and producer of social inequity — or the absence of fairness and justice as a social norm — which creates intergenerational cycles of societal violence. We understand sexual assault as one manifestation of sexism (along with sexual harassment, sex discrimination, the denial of reproductive health care, etc.) that secures patriarchal dominance, ensuring that wealth and power remains largely concentrated with men. Sexism is rooted in the same soil as other forms of oppression that similarly disenfranchises groups based on race, class, sexual identities, religions, residency status, and abilities. Complicating this understanding is that none of us live single-identity lives. We are multifaceted, but all find ourselves belonging to one dominant culture or another that disenfranchises others.
ValorUS believes that in order to prevent and end generations of sexual violence, we must simultaneously be in the business of advancing equity. If we promote equity and justice across society, then it necessarily improves the quality of life for women, people with marginalized gender identities, people of color, children, low income wage earners, people with disabilities, immigrants, incarcerated and detained persons, migrant workers, those working in various sex trades, and men.
As the anti-violence against women movement embraces fifty years of activism, we want to work more intentionally and in solidarity with other movements for justice, equity, and human liberation. ValorUS seeks to support sexual assault programs with strategies for collective action to advance equity and justice for all.
Download your toolkit!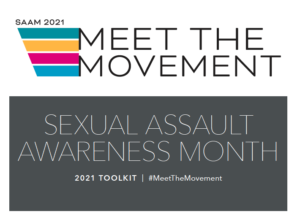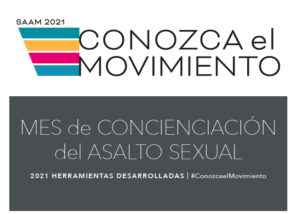 How to use the toolkit:
It has been intentionally created to lay out the reciprocal connections between preventing and ending sexual violence and the broader equity and social justice movements. As per your survey responses, this year's SAAM toolkit intends to strengthen your efforts to:
Increase awareness of sexual assault in a post #MeToo era
Increase partnerships and collaborations with other agencies and movements working for social justice
Increase active bystander knowledge and intervention about sexual violence
Have ongoing conversations with your communities.
Download your Zoom background!
Social Media Graphics
Social Media Graphics will be uploaded throughout the month! Stay tuned!