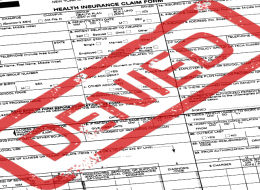 The Huffington Post has recently begun their Investigative Fund's Citizen Journalism Project which allows readers to share their experiences with insurance systems to help shape the current debate over what needs to be done to fix the current National Health Care system.
Since the Huffington Post began this project, many women have contacted the Huffington Post to share their experiences with being denied insurance coverage due to pre-existing conditions they developed after being raped, such as PTSD and HIV/AIDS.

One woman, Cristina Turner-a survivor of a drug induced rape-said that after she sought medical attention she did not realized she had made herself "uninsurable" after she was prescribed anti-HIV medications after the assault. Another woman in Ithaca, NY shared that Blue Shield declined to cover the rape exam and any therapy or medication from a recent rape because she had disclosed having been raped 21 years before.
As the National Health Care Debate continues, it is important to keep in mind how this also affects survivors of violence and women in general. You can find more information about, or be a part of the investigation by sharing your story, at the  Huffington Post's Investigative Fund and the Insurance Watchdog Investigation.
You can also get more information about women and the Health Care Debate at  Being a Woman is Not a Pre-Existing Condition.
Feel free to share your comments in the comments section below.