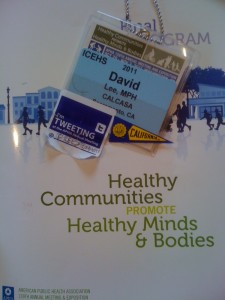 I just returned from the American Public Health Association' s 139th Annual Meeting held in Washington DC. I had the opportunity to meet many dedicated public health professionals (13,000 people attend this meeting.) This year's theme was "Healthy communities promote healthy minds and bodies."
There were so many sessions and posters I could not get to everything that I want to see. Here are a few of the highlights from the sessions I was able to attend:
If you were able to attend this conference, what were your highlights?