Sexual violence prevention practitioners have come to realize the importance of shifting the frame to promote "what we want," namely sexual health.  In the same way, sexual health promotion practitioners have expanded their lenses to include sexual violence prevention.  An example of effective work to bridge the gap between traditional sexual violence prevention and sexual health promotion is Oregon's Youth Sexual Health Plan.  The 2009 plan is receiving national accolades, as highlighted in this recent Lund Report article.
Oregon's plan includes five goals for sexual health:
that youth make thoughtful choices about relationships and sexual health
that sexual health inequities are eliminated
that rates of unintended teen pregnancy are reduced
that rates of sexually transmitted infection are reduced
that non-consensual sexual behaviors are reduced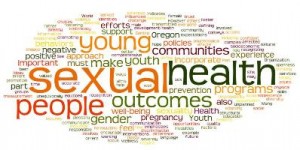 As the Lund report article points out, sexual health programs geared toward youth have historically only emphasized two of those goals – reducing the number of sexually transmitted diseases and the number of teen pregnancies.
"It really looks at sexual health as something other than just disease intervention, just preventing pregnancy or just preventing STDs," Smith (National Coalition of STD Directors) said.
I encourage prevention practitioners to join the sexual health promotion community and to invite sexual health promotion practitioners to join our communities.  As the most recent co-chair of Oregon's Youth Sexual Health Partnership, the group that created and that is charged with implementing Oregon's Youth Sexual Health plan, I assure you that doing so makes all the difference for a comprehensive youth sexual health approach that includes sexual violence prevention.
For readings, workshops, wiki, and other resources related to sexual health, visit www.preventconnect.org.