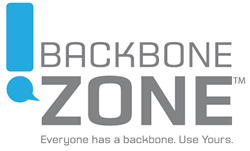 In July our interview with Drew Wing told you about  a new campaign from the Maine Coalition Against Sexual Assault (MECASA), in partnership with Boys to Men.  Just released, Backbone Zone!  focuses on bystander intervention. From the site:
Everybody has a backbone. The Backbone Zone is a project to help students find theirs, and to give them tools to confront gender-bullying, sexual harassment, and sexist and homophobic language when they see and hear it.
Check out the campaign posters and other materials on the Backbone Zone! website.
For more information about bystander approaches to the prevention of sexual and domestic violence, complete the eLearning course, visit our wiki page, and listen to a recording of our most recent web conference on bystander approaches.