Contributed by Monica Duester, CALCASA Intern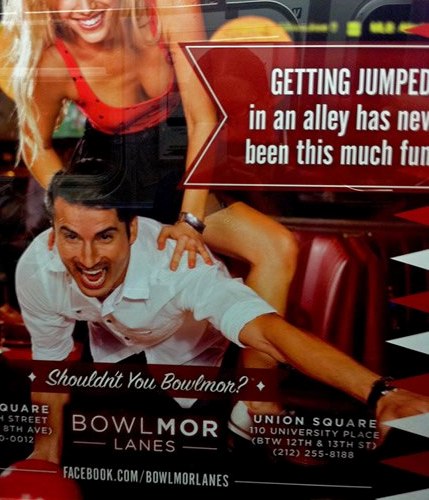 The latest hotly contested advertisement glorifying violence comes from Bowlmor Lanes in NYC.  It features the tagline, "Getting jumped in an alley has never been this much fun." By implying that getting jumped is fun, the ad is horrific and disrespectful to survivors of violence.
Jezebel article, "NYC Bowling Alley Makes Fun of Rape While City Sexual Assault Rates Climb," written by blogger Katie J.M. Baker, demands the ads be removed from MTA subway stations.  But Bowlmor Lane's CEO, Tom Shannon, feels the ad is "humorous and flirtatious," and refuses to remove it from circulation.
According to the New York Times article, "Rape in Hudson River Park Is Latest in a String of Jarring Crimes," the number of rapes and attempted rapes in NYC has increased 4 percent to 1,058 this year alone.  With these recent crimes some residents are on edge. The last thing the city needs are ads on public property making light of assault.
Being a new advocate for survivors, this ad makes me realize the importance of educating the public and businesses about how their decisions to broadcast messages can negatively impact others.  There are many different creative avenues that advertisers can take – why choose one that implies assault?
Click here to take action on Bowlmor Lane's ad.  And learn how to use art to prevent violence at our next Ms. Foundation web conference on October 10th.