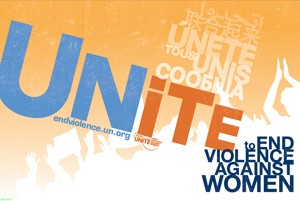 Today is International Day for the Elimination of Violence against Women. United Nations Secretary-General Ban Ki-moon gave this message:
Millions of women and girls around the world are assaulted, beaten, raped, mutilated or even murdered in what constitutes appalling violations of their human rights. […] We must fundamentally challenge the culture of discrimination that allows violence to continue. On this International Day, I call on all governments to make good on their pledges to end all forms of violence against women and girls in all parts of the world, and I urge all people to support this important goal.
Join millions of people across the world to take action to eliminate violence against women.