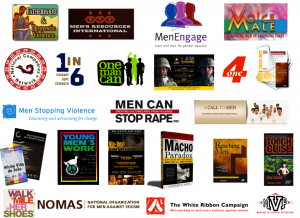 In today's New York Times, columnist Frank Bruni interviewed University of Mary Washington Professor Chris Kilmartin about the root cause of rape. And Kilmartin talked about the gender socialization of men and boys:
"We start boys off at a very early age," Kilmartin told me during a recent phone conversation. "When the worst thing we say to a boy in sports is that he throws 'like a girl,' we teach boys to disrespect the feminine and disrespect women. That's the cultural undercurrent of rape."
As we are looking to develop community-wide strategies to prevent sexual violence and domestic violence, many promising approaches consider strategies to transform the way gender is constructed. In a recent PreventConnect web conference, TrueChild's Riki Wilchins and Engender Health's Andrew Levack pointed about a variety of international gender-based violence efforts that focus on gender transformative approaches.
Here are just a few examples of work doing on now in the United States:  Men Can Stop Rape has been holding Healthy Masculinity Summits throughout the country; Coaching Boys into Men identifies coaching as a resource for change;  A CALL TO MEN employs community organizing strategies, and the Department of Justice's Office on Violence Against Women has a grant program on Engaging Men and Boys to end domestic violence, sexual assault, dating violence and stalking.
Just in the last several days, several blogs talked about how we need to transform men and masculinity. California State University Long Beach Professor and author of Men Speak Out: Views on Gender, Sex, and Power, Shira Tarrant identifies in her blog post Why Men Can Be Good for Feminism many others ways in which men are taking action:
The examples of men doing this work are many and growing. Men for Women's Choice supports reproductive rights. Voice Male Magazine and Masculinity U encourage rethinking stereotypes about masculinity and feminism. There is the awesome collection of men speaking out against street harassment. Award-winning filmmaker Byron Hurt's documentary about hip-hop continues to inform. Tom Keith's recent video The Bro Code investigates the toxic mix of men and sexist media. Filming is underway for Jennifer Siebel Newsom's new film on masculinity, The Mask You Live In. Every day, it seems, more men are getting on board with creating constructive solutions and positive change.
John Stoltenberg, author of Refusing to Be a Man: Essays on Sex and Justice, in his provocatively titled essay Why talking about 'healthy masculinity' is like talking about 'healthy cancer' also identifies the social construction of masculinity as a root cause, but he suggests that change is not done through the exploration of healthy masculinity or suggesting "real men don't rape." I think he illustrates this point well in an example of bystander intervention:
Basically bystander-intervention training is a program to equip penised people with communication skills, empathy, emotional intelligence, relational tactics, and a sense of personal agency to intervene when they see another penised person about to commit a sexual assault. Bystander-intervention training is widely regarded as one of the most effective means of primary sexual-assault prevention in social situations such as bars and parties where there are likely to be observers.
A big part of the program is teaching trainees (who tend to be Reformers) how to address one or several other penised people (often but not always Conservers) in a way that will effectively interrupt a probable assault-in-progress, create an exit option for a probable victim, and—here's the tricky part—not precipitate a cockfight with the probable perp.
There are many worthy aspects of bystander-intervention training but the one I want to focus on is this: It is practice acting out of one's moral agency without trying to prove one's manhood. This is a discipline that is learnable, replicable, and rememberable. One reason a trainee knows the discipline is important is that he knows darn well what will happen if he does try to prove his manhood in such a situation: The contretemps will turn to combat of one sort or another, because the very act of trying to demonstrate one's own manhood vis-à-vis another penised person will fuel the other person's manhood-demonstrating responses (which are fired up already, as evidenced by the sexual-assault-in-progress).
And when a trainee overcomes his own anticipatory dread of what might happen to him if he intervenes—when in real life he actually does step up and say or do something that interrupts what might have ended harmfully—he learns another powerful lesson: "I did that. I said that. I stopped that." Put another way: "I acted out of my own moral agency and I can take personal responsibility for the consequence of that action."
Ending rape and domestic violence requires significant cultural shifts.  Each of these articles contribute to the important discussion of how do we do this.
What strategy and approach do you see as promising?