Sexual assault and harassment is pervasive. With the national discussion about sexual assault and harassment driven by survivors voices (such as #MeToo in social media), the public to recognizing that sexual violence takes place in many locations including work.
In the new study released today by Stop Street Harassment, we learn not only how frequently sexual abuse take place and in what forms, we also learn more about where sexual violence takes place. The report finds that "most women (66%) reported experiencing sexual harassment in a public space, like on the street or in a store. Around one-third of all women reported experiencing sexual harassment in their workplace (38%), their home/residence (35%), a nightlife venue (33%) and their pre-K to 12th grade school (30%), respectively." Most experiences of sexual assault took place in private homes and residences.  As we develop and implement prevention strategies, we need to account for these different settings.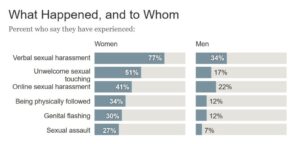 The Facts Behind the #MeToo Movement: A National Study on Sexual Harassment and Assault shares the findings of a national online survey of 2000 people (1000 women and 1000 men). This study was supported by Raliance and the Center for Gender Equity and Health at the University of California San Diego.
Click here to see the full report.