In February 2021, CALCASA launched a new series: The Rape Prevention Education (RPE) Spotlight. This series is slated to occur monthly and will feature an RPE practitioner in California. Topics will spotlight special projects, innovative program strategies, and other subject areas on which the preventionist is an expert.
This month, the RPE Spotlight Series kicked off its first session with Janae Sargent (she/hers) from RISE in San Luis Obispo, CA. Janae leaned on her prior experience as a working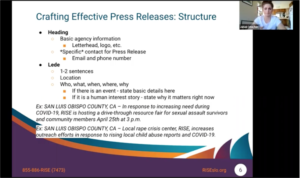 journalist to advise participants how to develop press releases for SAAM and beyond, including media coverage for general prevention projects. In this 30-minute recording, Janae addresses building relationships with news outlets, who to contact and how to disseminate a press release, crafting powerful messages, and common mistakes that sexual assault programs make with the media.
On the subject of crafting press releases, Janae says:
"We often think of news outlets as community service organizations, similar to ours – that they want to cover interesting stories – and they do, but they're getting so many press releases, so many stories, thrown at them all the time. And just like anything else, they're a for profit business and they're looking for a product. So, when we're writing a press release, it doesn't always feel the best but we're trying to sell what we're doing to them. We want to say why it's interesting for them to dedicate their resources to it and why the community is either going to read it or watch it if they cover it."
For more information on the basics of writing press releases and other tips, watch the recording HERE.