Lea el blog en español a continuación
In April 2021, the RPE Spotlight featured the incredible projects facilitated by three community organizers working specifically in Spanish Speaking Communities.
Preventionists Johanna Matamoros (she/her/ella) from Strength United and Rebeca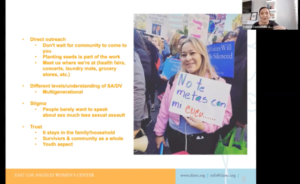 Melendez (she/her/ella) and Valeria Castaneda (she/her/ella) from East LA Women's Center (ELAWC), shared their experiences community organizing, through Close to Home, with Latinx communities. From mobilizing for COVID-19 safety with the promotoras to innovative outreach, these community organizers share key strategies behind their work with Spanish speaking communities in this 50-minute recording.
On the subject of culturally responsive outreach and the success of ELAWC's culturally responsive organizing in the Boyle Heights neighborhood of Los Angeles, Rebeca shared:
"This picture is of our very first graduating class and what's amazing to me is this is what a feminist looks like in our community…the organization is built on our cultural strengths – we get our marching orders, we get our instructions, we get our work, we get our energy from our community. They tell us exactly what they need and what we do is we tailor all of our programs based on the feedback that we get from the community…The promotoras go out, they come back, and they say 'this is what we need.' So, for those of you that don't have 350 promotoras and seven collectives to give you that feedback, it's important that you listen to the staff who does do the work in the community. The staff that knows 'this is going to land well' or 'this isn't going to work with our community.'"
 Valeria adds, "We go out into the community, we don't wait for the community to come to us…We know our folks are going to be there. So, what do we do? We show up."
While discussing recruitment, COVID-19 challenges, and what makes organizing successful in Canoga Park, Johanna from Strength United shares:
"Another important key is honesty. We have to be honest with our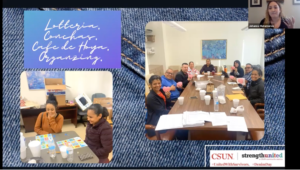 community. We have to come in with transparency. Who am I? Who are you? Why am I doing this work? Because it's important to have that connection and to build that bond. Also, have consistency. Truly show our community that we are invested in the change, in the shift, that we're invested in their wellbeing and their communities' wellbeing. We're here to help."
 To hear more about the Latinx driven community organizing in Boyle Heights and Canoga Park, watch the full Spotlight HERE.
__________________________________________________________
Blog Destacado de Educación para la Prevención de la Violación (RPE): Comunidades Latinx
En abril de 2021, el Blog Destacado de Educación para la Prevención de la Violación (RPE) presentó los increíbles proyectos facilitados por tres  organizadoras comunitarias que trabajan específicamente en Comunidades Latinx.
Las prevencionistas Johanna  Matamoros (ella/ellas)  de Strength United, Rebeca  Meléndez (ella/ellas) y Valeria  Castañeda  (ella/ellas) de East LA Women's Center  (ELAWC),compartieron sus experiencias de organización comunitaria,  a través del programa Close to Home, con comunidades Latinx. Desde la movilización por la seguridad de COVID-19 con las promotoras hasta el alcance innovador, estas organizadoras comunitarias comparten estrategias clave detrás de su trabajo con las comunidades de Latinx en esta grabación de 50 minutos.
Sobre el tema del alcance culturalmente receptivo y el éxito de la organización culturalmente receptiva de ELAWC en el vecindario de Boyle Heights de Los Ángeles, Rebeca compartió:
"Esta foto es de nuestra primera clase de graduados y lo que es sorprendente para mí es que así  es como se ve una feminista en nuestra comunidad … la organización se basa en nuestras fortalezas culturales: recibimos nuestras órdenes de marcha, recibimos nuestras instrucciones, obtenemos nuestro trabajo, obtenemos nuestra energía de nuestra comunidad. Nos dicen exactamente lo que necesitan y lo que hacemos es adaptar todos nuestros programas en función de los comentarios que recibimos de la comunidad … Las promotoras salen, vuelven y dicen 'esto es lo que necesitamos'. Entonces, para aquellos de ustedes que no tienen 350 promotoras y siete colectivos para darles esa retroalimentación, es importante que escuchen al personal que hace el trabajo en la comunidad. El personal que sabe 'esto va a caer bien' o 'esto no va a trabajar con nuestra comunidad."
 Valeria agrega: "Salimos a la comunidad, no esperamos a que la comunidad venga a nosotros… Sabemos que nuestra gente va a estar allí. Entonces, ¿qué hacemos? Nos presentamos."
Mientras discute el reclutamiento, los desafíos de COVID-19 y lo que hace que la organización sea exitosa en Canoga Park, Johanna de Strength United comparte:
"Otra clave importante es la honestidad. Tenemos que ser honestos con nuestra comunidad. Tenemos que entrar con transparencia. ¿Quién soy? ¿Quién eres? ¿Por qué estoy haciendo este trabajo? Porque es importante tener esa conexión y construir ese vínculo. Además, tener consistencia. Demostrar de verdad a nuestra comunidad que estamos invirtiendo en el cambio, en la transición, que estamos invirtiendo en su bienestar y en el bienestar de sus comunidades. "Estamos aquí para ayudar".
Para escuchar más sobre la organización comunitaria impulsada por latinx en Boyle Heights y Canoga Park, vea el Blog Destacado completo AQUÍ.