In the month of May 2021, ValorUS' California RPE Spotlight featured Anna Lee (she/her), Community Program Manager for Prevention at Center for the Pacific Asian Family (CPAF) in Los Angeles.
In this 45-minute recording, Anna discusses CPAF's nonviolent parenting curriculum, Parenting with Nonviolence, and offers insight into working with caregivers in API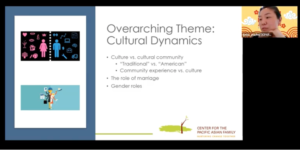 communities to prevent violence.
Anna also shared highlights from the project's needs assessment and focus groups, emphasizing some of the nuances of inter-communal and family violence, specifically in API communities. She addressed how the assessment informed the parenting curriculum as well as the successes and challenges of implementation of the curriculum, which was based on Ruth Beaglehole's Principles and Practices of Parenting with Nonviolence.
On the subject of working with parents in API communities, Anna talked about reframing some of the cultural norms that were identified from their experiences and focus groups. She shared:
"We explore 'where do rules comes from for us?' What informs the rules that we make for ourselves? The values and all of that. So, it's never about 'this value is wrong' or 'this rule is wrong.' It's not about right or wrong in this process because, you know, there's differences. But it's more about understanding where that comes from for us and if that's really important. How is that serving the purpose of meeting the needs of ourselves and us children?"
For more information about CPAF's experience in working with caregivers on nonviolent parenting, watch the recording HERE.