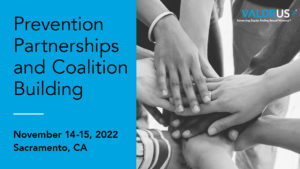 Please join us for our Prevention Partnerships and Coalition Building training! It will take place at the Holiday Inn in Downtown Sacramento on Monday, November 14, 2022, from 10am to 5pm, and Tuesday, November 15, 2022, from 9am to 4pm.
Register HERE. 
This training will support programs in identifying and leveraging the work and influence of other individuals, organizations, coalitions, and community/school groups. The training will include strategies for identifying shared goals, working cooperatively toward those goals, and building relationships for mutual benefit.
Learning Objectives: 
Participants will map their current and potential partnerships in their local community to support their prevention efforts. 

Participants will identify clear and concise program goals and mutual benefits of these goals with priority partners. 

Participants will define strategies for building and maintaining partnerships in service of mutual goals. 
Upon registering, you will receive a confirmation email with a link to book your hotel room at the Holiday Inn for our special event rate. VALOR has secured a limited number of hotel rooms at the rate of $95/night + fees and taxes.  Register early (before October 14) to secure this rate. If you wish to reserve your hotel room after October 14, 2022, or having any questions, please contact Shelby Vice at svice@valor.us.
*If you are requesting ASL or Spanish interpretation you must register before October 24, 2022, otherwise we cannot guarantee that we will be able to facilitate your request.