ValorUS® (VALOR) mourns the wrongful death of Mahsa Amini who died in Iranian police custody after her arrest in Tehran, as well as the additional 200 people who have lost their lives protesting across the country over the last few weeks. We condemn the use of state violence against women who do not comply with compulsory hijab rules and the violence that is being inflicted on protestors.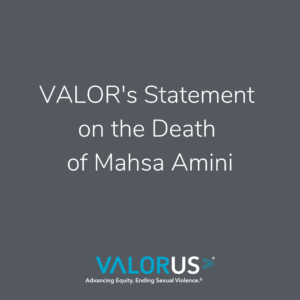 The basic human right to bodily autonomy is fundamental and is being suppressed by current Iranian leaders. As the United Nations highlighted, any legislation that discriminates on the grounds of sex and gender is in direct violation of international human rights standards. 
At VALOR, we cannot ignore how this is an act of violence against women and the message this sends on an international scale. We envision a world free from violence, where the dignity of every person is valued and respected. That world will never become a reality when we remain silent in times of injustice. As an organization that represents rape crisis centers across California and works alongside other organizations who share this mission, we acknowledge the critical links between sexual violence and other types of violence while addressing the disproportionate impact on communities of color. 
We stand in solidarity with protestors in Iran. Currently, the best way to ensure protestors in Iran know we are still supporting them and advocating for justice and freedom is through social media. Continue to elevate voices of Iranian protestors; share, like and re-post what they are posting. VALOR will continue to advocate for the rights to personhood and bodily autonomy and work towards a world free from violence.