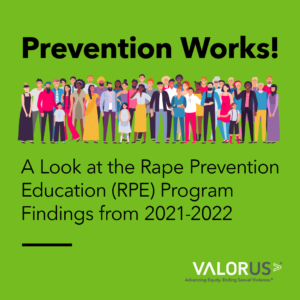 Rape Prevention and Education (RPE) programs in California created effective and lasting changes in their schools and communities. Over 5,000 activities or events and over 480,000 interactions with community members or students were conducted through the RPE program in the last year. Over 40% of the programs reported that a school/local policy or protocol was changed that would help reduce sexual violence in the community. The data also found that over 80% of agencies reported community leadership, action, or interest in sexual violence. 
In a recent web conference sharing the findings from the 2021-2022 Rape Prevention Education (RPE) Evaluation,  the California Department of Public Health and the Center on Gender Equity and Health at UC San Diego School of Medicine reviewed the results of the data collection and identified lessons learned, and celebrate the hard work of the RPE programs. Throughout the year, data was collected from more than 1,900 RPE participants across the state, of which almost 30% were youth leaders. The data looked at the process, community-level change, qualitative feedback from RPE facilitators, and pre/post surveys from youth and young adult participants. In addition to these findings, the California Department of Public Health has released various briefs from previous years sharing similar results. 
Through the RPE program, the California Department of Public Health funds 14 school-based programs and 9 community mobilization projects. VALOR provides training and technical assistance to these programs. RPE program facilitators work within their communities and schools to create lasting change through policy, community leadership, and improving safety. Before behavioral change can occur within a community, preventionists need to have continued interaction with community members. 
The RPE program is successful in implementing rape prevention and education across the state and creating significant change even in the face of adversity due to social crises. After exposure to RPE programs, there were significant community and structural changes, an increase in community leadership around sexual violence prevention, and an improvement in the safety of school and community spaces. In addition to policy changes and community actions taken, nearly half of the programs reported that community members initiated action around sexual violence prevention such as receiving presentation requests from community members, sexual violence prevention being added to a school district's annual budget, and community engagement in sexual violence prevention after a community event or RPE action. Community and school spaces also saw an increase in safety with over a quarter of the programs reporting progress toward making physical spaces safer in order to reduce vulnerability to sexual violence. 
Findings from pre- and post-surveys demonstrated that after exposure to the RPE program, students reported a significant increase in students at school discussing sexual violence as a problem and school staff responding in supportive and helpful ways to sexual harassment. 
Though barriers such as the continued impacts of COVID-19 and staff turnover were consistent among the programs, steady success was illustrated in the efforts of the sexual violence prevention programs to create safe and empowering spaces for students and community members. The findings from this evaluation prove that prevention works. 
Resources:
Webinar Slides: RPE Evaluation Findings 2021-2022 (4)

Recording of Web Conference:The 2021-2022 Rape Prevention Education (RPE) Evaluation
Data briefs on findings from the evaluation of the RPE program in California: