Every year in honor of Sexual Assault Awareness Month, the National Sexual Violence Resources Center invites each state sexual assault coalition the opportunity to nominate an individual who has created a significant impact in preventing sexual violence through a Visionary Voice Award. It's so important that we pause and take the time to recognize and honor those who have dedicated their lives to making our world a safer and better place. This year, VALOR is proud to present California's Visionary Voice Award in memory of Laura Segura, past Executive Director of Monarch Services.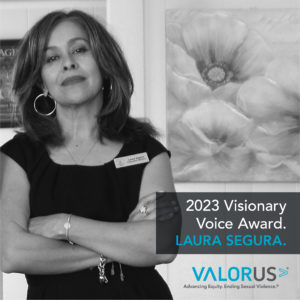 Laura Segura became Monarch Services' Executive Director in 2006. During her time at Monarch, Laura championed equity and fearlessly challenged traditional ideas about what justice looks like for survivors of sexual and domestic violence. While Laura was a strong advocate for survivors of violence, she was also an advocate for individuals who perpetrated acts of violence, because she recognized that violence is cyclical and individuals who cause harm have usually been harmed themselves. She believed that no one should be reduced to the worst acts they've committed. She felt that the best way to serve survivors and work toward a community free from violence was to serve families holistically by providing trauma-informed care to every client who walked through Monarch's doors. Laura embodied equity in action.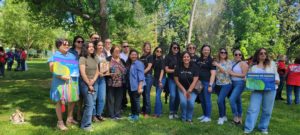 Laura's community activism extended beyond her role at Monarch Services, as she was passionate about helping all marginalized communities. She supported the field's pivot towards implementing restorative justice programming, recognizing the deep need for a holistic approach that will truly end sexual violence. Because of her grand vision and immense passion, she inspired those around her to open their minds and hearts to innovative and progressive paths toward healing and justice. She was always ready to embrace change and push the movement into revolutionary spaces.
Laura's leadership will always be appreciated. She was a mother, a sister, a daughter, a friend, an athlete, an activist, a leader, and a true champion for the Santa Cruz County community. Her strength and passion for equity will surely have a lasting impact on our community.