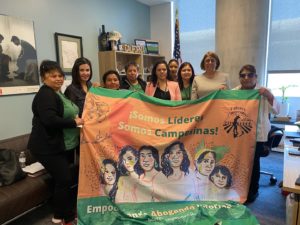 VALOR and the California Partnership to End Domestic Violence welcomed 100+ members to Sacramento May 15th and 16th for Policy Advocacy Day. Throughout the two-day event, members learned about VALOR and the Partnership's three policy priorities and met with over 70 legislatures and staffers to educate and advocate about the importance of these priorities.
This year, members focused on our prevention budget ask, championed by Assemblymember Reggie Jones-Sawyer, highlighting the need for the state to invest $20 million in ongoing funding to support sexual and domestic violence prevention programming. Members shared stories about the positive impacts of one-time funding allocated by the state in 2021, and relayed their fear if this funding were to end and not be renewed. In Assemblymember Jones-Sawyer's keynote address Tuesday morning, he echoed the need for us to disrupt intergenerational cycles of trauma and harm, and committed to his efforts to secure funding in this year's budget.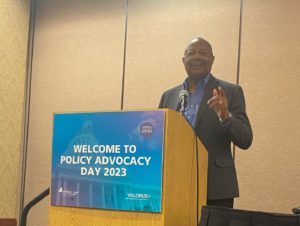 Members also advocated for VALOR's co-sponsored bill, SB 36 (Skinner), California Safe Haven, which builds upon previous legislation to strengthen California's safe haven protections for abortion and gender-affirming care by prohibiting bounty hunters and bondsmen from apprehending individuals seeking refuge in California fleeing from abortion and gender-affirming care hostile states. During the legislative meetings, members were able to draw clear connections between sexual and domestic violence prevention and advancing reproductive justice.
Finally, members also supported the Partnership's co-sponsored bill, AB 1497 (Haney), Justice for Survivors Act. The bill builds on previous legislation and will allow survivors of human trafficking, domestic violence, or sexual violence to be protected from unjust convictions and sentence, and to vacate prior convictions. Under current law, only those charged with or convicted of non-violent offenses can raise their history exploitation and violence to affirmatively defend against convictions or vacate old convictions. This bill extends those provisions to all offenses and allows survivors to argue for a reduced sentence. Members shared stories of working with survivors at their local programs and how this bill would give survivors the opportunity for their voice to be heard during the legal process.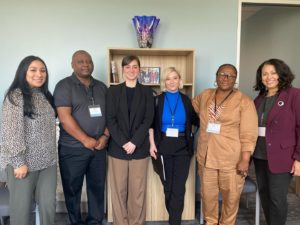 This year's Policy Advocacy Day focused on cross-movement work and our collective power as a unified voice. Together, we can work towards an equitable, just, and violence-free California.