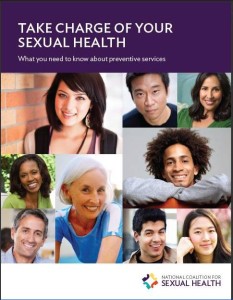 Just in time for Sexual Assault Awareness Month (SAAM), the National Coalition for Sexual Health (NCSH), of which PreventConnect/CALCASA is a proud member, has released Take Charge of Your Sexual Health: What you need to know about preventive services.  The guide, which was audience-tested with members of the public, includes action steps for achieving good sexual health, information about recommended sexual health services, tips on how to find and talk with a health care provider, and a list of additional sexual health resources.  The guide includes a look at healthy relationships, noting:
Being sexually healthy means being able to enjoy a healthy body, a satisfying sexual life, positive relationships, and peace of mind. It also means enjoying your sexuality and taking care of yourself and your partners throughout your life. Being free to talk about sexual health with your partner and health care provider is key to your health.
Sexual health is a key to sexual and domestic violence prevention.  After all, if we are going to prevent what we are against, we must promote what we are for.  This guide shares exactly that.  For more on a sexual health approach to sexual violence prevention, explore this eLearning course.