Yesterday was the International Day for the Elimination of Violence Against Women marking the start of the 25th year of 16 Days of Activism Against Gender -Based Violence. Activists from around the world are dedicating these next 15 days to action that will move us closer to eliminating sexual and domestic violence.
UN Women is participating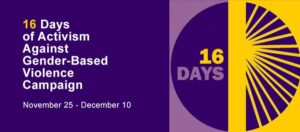 in the 16 Days of Activism through the coordination of the United Nation's Secretary General's UNiTE to End Violence Against Women campaign. The theme of their campaign this year is "Orange theWorld: Raise Money to End Violence against Women and Girls." The theme aims to highlight a major challenge with implementing and sustaining efforts to prevent sexual and domestic violence globally — funding.
The United Nations Population Fund is also commemorating 16 Days of Activism by highlighting 16 heroes who are using their voices to create change.
How will you participate in 16 Days of Activism to Against Gender-Based Violence?