This is an original blog post from PreventConnect
Today, CDC's National Center for Injury Prevention and Control has released a report brief highlighting National Intimate Partner and Sexual Violence Survey (NISVS) data from 2015.
The 2015 report brief shows the prevalence of sexual violence, stalking, and intimate partner violence. It contains similar findings to previous NISVS data sets, suggesting that the survey's measures are reliable. Understanding the prevalence of sexual and intimate partner violence is critical to advancing prevention efforts.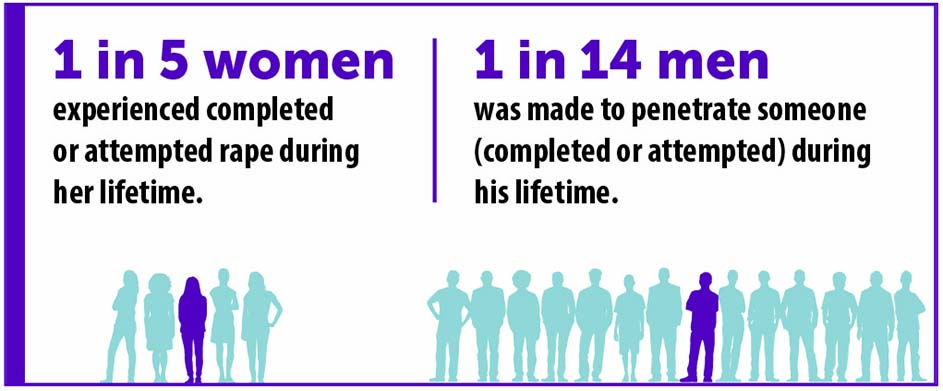 Key findings from the 2015 data include:
Approximately 1 in 5 (21.3% or an estimated 25.5 million) women in the U.S. reported completed or attempted rape at some point in their lifetime.
About 1 in 14 men (7.1%  or nearly 7.9 million) in the U.S. was made to penetrate someone else (attempted or completed) at some point in their lifetime.
A majority of female victims (81.3%) of completed or attempted rape and the majority of male victims (70.8%) of completed or attempted rape first experienced such victimization prior to age 25.
Nearly 1 in 6 women (16.0%, or 19.1 million) and about 1 in 17 men (5.8% or 6.4 million) in the U.S. were victims of stalking at some point in their lifetime, during which she felt very fearful or believed that she or someone close to her would be harmed or killed.
About 1 in 4 women (24.4% or 29.2 million) and nearly 1 in 10 men (10.6% or 11.8 million) in the U.S. experienced contact sexual violence, physical violence, and/or stalking by an intimate partner during their lifetime and reported some form of IPV-related impact
Findings from NISVS help demonstrate that sexual violence, stalking, and intimate partner violence are serious public health issues, and can help identify priority target populations for prevention.
PreventConnect has produced web conferences to explore previous NISVS reports in more detail. Check out recordings of those web conferences to hear from researchers and advocates discussing earlier NISVS data reports and the implications for prevention: