"The fact that prevention strategies related to changing sexist and misogynistic language and behavior dominated Twitter discourse is promising…"
In the days after #MeToo started trending in October 2017, Twitter users responded with #HowIWillChange asking men to prevent sexual violence and support survivors. A new study in the Journal of Interpersonal Violence highlights the impacts of this trending hashtag.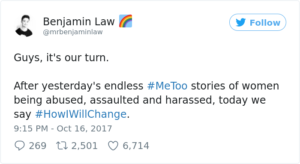 Alyssa Harlow's team with the Boston University School of Public Health studied nearly 1,500 #HowIWillChange tweets. Over half of the tweets had primary prevention messages and another third were calling on each other to intervene when they see violence or hear misogynistic jokes or statements, to support survivors, and to hold those who cause harm accountable.
Not only is this Twitter conversation capable of creating lasting cultural shifts and social norms change, but the prevention strategies shared with #HowIWillChange also provide an excellent jumping off point for advancing prevention education. For example, in addition to role modeling positive behaviors for children, parents can also talk with children of all ages about personal boundaries and healthy development. Or, those who said they would examine their male privilege as their #HowIWillChange action can also read up on how various forms of oppression (like racism, heterosexism, cissexism, etc.) contribute to high rates of violence, and they can be vocal activists for intersectionality and sexual violence prevention in their peer circles.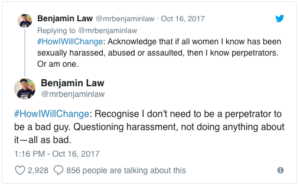 There were some tweets in opposition to #HowIWillChange and sexual violence prevention. These critiques illuminate which myths and misperceptions we can reframe and correct. Harnessing the momentum of Twitter trends can take our prevention efforts to new platforms and beyond our immediate communities. It is impossible to be comprehensive in our prevention efforts in 280 characters, so we must be strategic with Twitter and other social media. Berkeley Media Studies Group recently released two prevention communication guides–one with RALIANCE and one with the National Sexual Violence Resource Center–to help prevention practitioners craft effective, strategic prevention messages and communicate those messages with media outlets.
Read more about the study in a press release here, and to get information about the study, click here.