In March 2021, the RPE Spotlight Series featured Sarah Diamond (she/hers), Lead Prevention and Community Engagement Specialist from Center for Community Solutions in San Diego, CA. Sarah joined the VALOR RPE Team to talk about porn literacy and sexual violence prevention.
Provided in the format of a 45-minute training on ethical and critical porn consumption, Sarah gave an overview of why educators should teach about porn literacy, what to consider,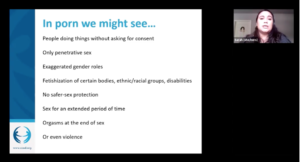 fielding difficult questions, and provided several activities to facilitate conversations about porn with youth.
In addition to urging educators to approach porn literacy from a place of neutrality and non-judgment, Sarah said:
"Porn literacy is really a framework from which people can critically examine and make sense of the images they see. When we do media literacy as violence preventionists we are trying to help people make sense of everything that they're seeing in the media. We're helping them unpack messages about healthy relationships, or consent, or bystander intervention or social norms. This [porn literacy] is just another form of media literacy, it's just looking at porn in particular and unpacking the messages we are seeing in porn and how that can influence sex, relationships, ourselves, and our confidence. So really, porn literacy is about helping young people be critical consumers of what they are seeing and figuring out if what they're seeing is real and how to make sense of those images. That's the foundation for what porn literacy is."
 For more information about porn literacy in sexual violence prevention programs, watch the recording HERE.