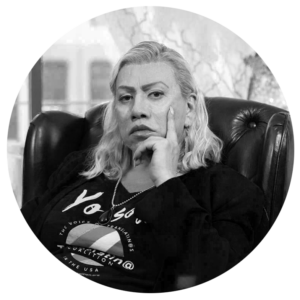 On April 30, 2021, the National Sexual Violence Resource Center (NSVRC) announced 31 recipients of its 2021 Visionary Voice Awards — a diverse group of honorees from across the country who represent a wide range of disciplines and were selected for their outstanding work toward ending sexual harassment, misconduct and abuse.
 On behalf of California, ValorUS (formerly the California Coalition Against Sexual Assault) nominated movement builder and advocate, Bamby Salcedo, the president and CEO of The TransLatin@ Coalition, a national organization that focuses on addressing the issues of transgender Latin@s in the U.S. 
"Bamby's fearless leadership and advocacy in elevating the voices and experiences of transLatin@ survivors of sexual assault and working to prevent abuse, supports VALOR's vision of creating a world free from violence where the dignity of every person is valued and respected," stated ValorUS' CEO, Sandra Henriquez. 
Bamby Salcedo is a national and international transgender Latina woman who is the President and CEO of the The TransLatin@ Coalition, a national organization that focuses on addressing the issues of transgender Latin@s in the U.S. Bamby's leadership demonstrates that advocating for transgender Latin@s includes addressing and preventing sexual violence. Bamby developed the Center for Violence Prevention & Transgender Wellness, a multipurpose, multi-service space for transgender people in Los Angeles. Bamby's remarkable and wide-ranging activist work has brought voice and visibility to not only the trans community, but also to multiple overlapping communities and issues, including sexual violence prevention, migration, HIV, youth, LGBT, incarceration, and Latin@ communities. Bamby has inspired many people as a keynote speaker at the 2018 and 2020 National Sexual Assault Conference.Through her instinctive leadership, she has birthed several organizations that created community where there was none, and she advocates for the rights, dignity, and humanity for those who have been without a voice.
"We're honored to present this year's Visionary Voice Awards to these change makers who are committed to supporting survivors and preventing sexual violence, even during a year of unprecedented challenges and crises," said NSVRC Executive Director Yolanda Edrington. "This year's awards also recognize groups and organizations that are bringing individuals together to support survivors and make meaningful change in their communities."
NSVRC offers the Visionary Voice Awards, in conjunction with Sexual Assault Awareness Month each April, to recognize the creativity and hard work of individuals around the country who have demonstrated outstanding work to end sexual violence. Each year, state, territory, and tribal coalitions select an outstanding individual to nominate for the awards. Nominees may be partners from a local community or other outstanding individuals that have worked to end sexual violence.