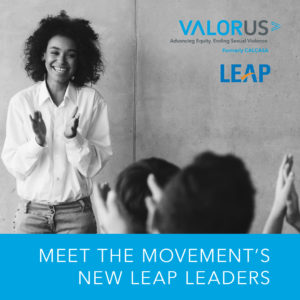 Now, more than ever, women of color are changing the world. As advocate leaders, they are representative of their communities and provide much needed guidance and vision within the sexual and domestic violence fields. In an evaluation done by the National Organization of Sisters of Color Ending Sexual Assault (SCESA), it was noted that although a majority of staff at dual agencies (sexual assault and domestic violence) are Women of Color, a noticable minority were actually in positions of leadership. Frequently, a lack of professional development, mentoring, and access to opportunities combine with racial bias to stifle growth and advancement.
Women of Color have been providing leadership in the anti-sexual assault movement since the very beginning. However, Women of Color are frequently overlooked or dismissed in policy discussions and executive leadership development within individual organizations and in the broader movement. . This limitation in Women of Color leadership within this movement serves to stall the movement's ability to respond to survivors of sexual assault in a culturally and linguistically competent manner, and marginalizes the wholistic needs of communities of color.
For the past seven years, the Leadership Education and Advancement for Professionals (LEAP) has sought to bridge this divide.The VALOR team provides an immersive and intensive training experience geared to moving these women forward and strengthening their career in the anti-violence movement. LEAP's primary purpose is to enhance the professional skills of individuals of color seeking professional advancement in the anti-violence against women field. 
We are excited to announce and welcome our newest cohort:
April Barbosa, Justice for Rosaura (Arizona)

Natchawi Wadman, Center for the Pacific Asian Family (California)

Arcelia Sencion, Standing Together to End Sexual Assault (California)

Jizelle Rae Curameng, Tri-Valley Haven (California)

Elida Martinez, Standing Together to End Sexual Assault (California)

Mai Bao Yang, CHAN-BOF

Alliance for Community Transformations

(California)

Marie Jao, Guam Coalition Against Sexual Assault and Family Violence (Guam)

Artika Roller, Minnesota Coalition Against Sexual Assault (Minnesota)

Taylor Clark, Susanna Wesley Family Learning Center (Missouri)

Sumorcon Little-Harris, Ministries Outside the 4 Walls (North Carolina)

Raven Loaiza, Crime Victim Services (Ohio)

Debra Campbell, Hope & Healing Survivor Resource Center (Ohio)

Alicia WIlliamson, Ohio Domestic Violence Network (Ohio)

Tobi Downing, Central Division Victim Services (Pennsylvania)
Stay tuned for more updates from LEAP's newest cohort!
About ValorUS:
ValorUS (VALOR) is a national organization committed to advancing equity and ending sexual violence. Since our founding in 1980, we have continued to build dynamic relationships across a diverse range of communities, institutions and systems, and mobilize our network of survivors and advocates to influence change. Through leadership, prevention, and advocacy, we are fearlessly pursuing a world free from violence where the dignity of every person is valued and respected.