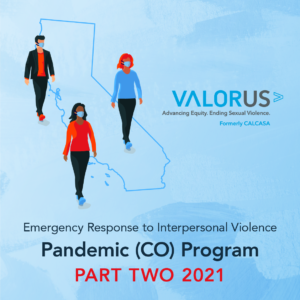 ValorUS (VALOR) is pleased to announce that through funds made available by California Office of Emergency Services (Cal OES), over $2 million have been awarded to 53 organizations throughout California to agencies serving victims. The program is titled Emergency Response to Interpersonal Violence – Pandemic (CO) Program Part Two 2021.  
This program is intended to combat the impacts of the COVID-19 pandemic on victim service providers in order to ensure the immediate safety of victims of interpersonal violence (domestic violence, sexual assault, human trafficking, and child abuse for the purpose of this Program).
These efforts also enhance communication and cooperation so victim-serving agencies become recognized as a vital part of the California safety net.   A strong safety net that provides access to meet basic needs should be woven of stakeholders from nonprofits, government agencies, the business community, grassroots organizers, and community members.  Grassroots organizers and community members are frequently overlooked in partnerships, but they often have greater access within the community, a history of working for change, and the trust of survivors who might not approach traditional service providers.
VALOR, formerly CALCASA, the California Partnership to End Domestic Violence (CPEDV), and the Children's Advocacy Centers of California administered by the Child Abuse, Listening, Interviewing, and Coordination Center (CALICO) are actively working to provide subaward funds to local service providers to support the additional needs associated with providing safety and services for victims during this time of social distancing.
When all stakeholders work together in powerful collaboration, they enhance their reach and effectiveness.