For June's RPE Spotlight, Melodie (she/they/ella) and Ana (she/her/ella) from Peace Over Violence (POV) highlighted social media engagement through their very active youth Instagram project, Youth Over Violence.
In this 45-minute recording, Melodie and Ana discuss the basics of how POV creates posts, attracts followers, utilizes engagement strategies and overcomes common hurdles. Some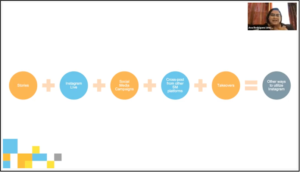 popular ideas for engagement included Instagram live collaborations and social media "takeovers" where organizations who are active in prevention work can swap accounts for a day to facilitate a "day in the life" or discuss topics together on social media.
On the topic of youth-led social media, Melodie had this to share:
"One thing we try and do is pull from the youth themselves to get youth generated ideas and posts that we'll be able to use. And it's really important for us to follow the youth, and by "following youth" we mean a couple of different things. We might be physically following them at their schools, taking photos of what's going on with them, but it also means posting about things that we know they care about using language that's going to be accessible to them."
Ana added some additional insight about ways to engage youth and stay creative on Instagram. Like this example:
"One of the ideas that I threw out to Melodie literally a couple of days ago is outreaching to youth who have participated sometime in the eleven years that we've done this now and, you know, highlighting their stories – where are they now?"
 Want to know more about youth-led social media for prevention programs? You can watch the recording HERE.