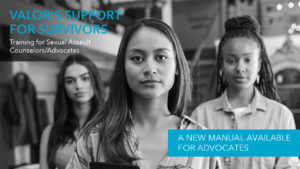 In 1999 ValorUS (formerly the California Coalition Against Sexual Assault, hereinafter "VALOR") released the first Support for Survivors guide. Two decades have passed, and within that time our movement to end sexual violence has transformed. Perspectives of sexual violence have changed and the voice of our movement to end sexual violence has grown; we've recognized the need to center equity and reach communities at the margins in order to support all survivors, especially the most vulnerable.
The latest updates to VALOR's Support for Survivors: Training Sexual Assault Counselor/Advocates in the 21st Century reflect the advancements the movement has made and our fearless approach to honor the valor and strength of survivors.
Our intention from the beginning has not just been to provide pathways for survivors, but also to strengthen the capacity of our communities to prevent and intervene in sexual assault by addressing the root causes that create the conditions for violence and oppression.
VALOR envisions a world free from violence where the dignity of every person is valued and respected . This new version of Support for Survivors informs us how we move forward to address the inequities in our communities, in order to prevent and end sexual violence.
Support for Survivors is an indispensable resource for advocates and advocate trainers.

Whether you are a seasoned advocate wanting to remain informed of new developments and approaches in training or perhaps a volunteer starting on their own advocacy journey- this manual is for you.

The manual is over 190 pages and covers a range of topics including but not limited to:

History of the Sexual Violence Movement

Child Sexual Abuse

Teen Sexual Abuse

Crisis Intervention

Referral Resources and Methods

Multidisciplinary Collaboration and Systems

Medical

Working with Law Enforcement

Legal and Court

Moving Toward the Future

"Download your copy today!" The resource is available for download at no cost.
____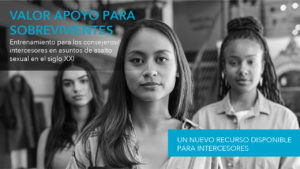 En 1999, ValorUS (anteriormente conocida como la Coalición de California Contra el Asalto Sexual, "VALOR") publicó la primera guía de Apoyo para Sobrevivientes de VALOR. Han pasado dos décadas y en ese tiempo nuestro movimiento para poner fin a la violencia sexual se ha transformado. 
Las perspectivas de la violencia sexual han cambiado y la voz de nuestro movimiento para poner fin a la violencia sexual ha crecido; hemos reconocido la necesidad de concentrarnos en la diversidad y llegar a comunidades marginadas para apoyar a todas las sobrevivientes, especialmente a las más vulnerables.
Las últimas actualizaciones del Manual de Apoyo para Sobrevivientes de VALOR: Entrenamiento para las consejeras/intercesoras en asuntos de asalto sexual en el siglo XXI refleja los avances del movimiento y nuestro valiente enfoque para satisfacer las necesidades de las sobrevivientes. Desde VALOR imaginamos una sociedad en la que se respeta y valora a las personas, y en la que la sanación y el aprendizaje tienen lugar en la comunidad. Esta nueva versión del Manual de Apoyo para Sobrevivientes de VALOR nos ofrece información sobre cómo proceder para abordar las desigualdades a las que se enfrentan las sobrevivientes y reforzar recursos que tenemos para ofrecer.
Apoyo para Sobrevivientes (Support for Survivors) es un recurso indispensable para consejer@s e intercesor@s en asuntos de asalto sexual.

Si usted es un intercesor que desea mantenerse informado sobre los nuevos desarrollos y enfoques en la capacitación o tal vez un voluntario que comienza su propio viaje de promoción y crecimiento, este manual es para usted.

El manual tiene más de 190 páginas y cubre una variedad de temas que incluyen, entre otros:

Historia del movimiento de violencia sexual

Abuso sexual infantil

Abuso sexual de adolescentes

Intervención de crisis

Recursos y métodos de referencia

Colaboración y sistemas multidisciplinarios

Médico

Desarrollando relaciones sólidas con las fuerzas policiales

Jurídico y judicial

Avanzando hacia el futuro

¡Obtenga su copia hoy! El recurso está disponible para descargar sin costo alguno.