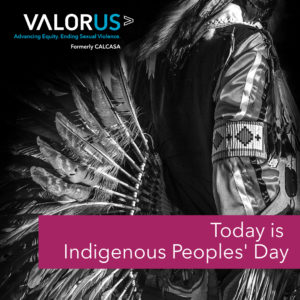 The foundational fabric of the United States of America is interwoven with a history of oppression and violence towards Indigenous communities. Sexual violence was used as a tool to oppress and colonize indigenous people and the legacy of racist attitudes and policies enables the ongoing neglect of missing and murdered indigenous women (#MMIW) – our work to prevent and end sexual violence is tied with the collective liberation of all peoples. 
Prevalence of Sexual Violence Against Indigenous Women 
Indigenous women face higher rates of murder and rape throughout the country than any other demographic group. According to the U.S. Department of Justice, Indigenous women are murdered at a rate that is ten times higher than the national average. The violence against women and girls remains under-reported. More than half of all Indigenous women have experienced sexual violence, domestic physical abuse, and stalking.
Gender Based Violence and the Environment
Environmental degradation is a driver of gender-based violence. Resource scarcity, conflicts and displacement caused by environmental degradation deepen existing inequalities. In such cases, gender-based violence is often used as a means of reinforcing privileges and control over resources. These issues are exacerbated by the prevalence of male-dominated enterprises near reservations, such as oil and gas industries, logging, shipping, and mining. These industries bring transient male workers to rural areas and have contributed to upticks of violence against Indigenous women.
Need for Culturally Competent Health Access
According to the Urban Indian Health Institute, "American Indians and Alaska Natives (AI/AN) were once the healthiest people in the Americas as we lived in harmony with each other and the natural resources around us." However, as a direct result of colonization over the last 500 years, AI/AN people suffer from some of the worst health disparities in the United States including infant and maternal mortality, cancer, cardiovascular disease, and depression. For all AI/ANs, there are systemic issues which give rise to health disparities: genocide, uprooting from homelands and tribal community structure, bans on cultural practices and language, racism, poverty, poor education, and limited economic opportunity. In addition, for urban AI/ANs, forced relocation due to 1950s federal relocation and termination policies is another contributing factor. Efforts to address these health disparities are often complicated by culturally inappropriate interventions and an inadequate understanding of the historical and ongoing trauma of AI/AN people, which results in deep health disparities.
Lack of Media Coverage
The murder of Gabby Petito  has caused a national outcry. In the same state, 710 Indigenous people were reported missing from 2011-2020 with many Indigenous organizations and even news agencies highlighting the unequal treatment of these stories. Multimedia campaigns like #MMIW (Missing and Murdered Indigenous Women) and now, #MMIWG2S (Missing and Murdered Indigenous Women, Girls, and 2 Spirits) serve to shine a light on the prevalence and urgent need to address the epidemic of missing and murdered indigenous people.
Collective Power and Collective Liberation
The renaming of Columbus Day was done to call attention to the destruction of Native American people and culture through disease, warfare, massacre, displacement, and forced assimilation. We invite you to take a few minutes to pause and reflect on the challenges still before us as we work to advance equity in order to end sexual violence for all. We also take this time to support and celebrate the beauty and resilience of our indigenous brothers and sisters.
Recommended links:
https://www.uihi.org/resources/indigenous-health-equity/
http://worldwithoutgenocide.org/toolkits/indigenous-peoples-day/background
Sicangu CDC – MMIW and Columbus Day 
Social Movements Working in Solidarity at the National Sexual Assault Conference feat. Kandi White of Indigenous Women Rising