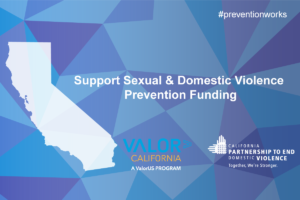 ValorCalifornia, a program of ValorUS,  is continuing our collaboration with the California Partnership to End Domestic Violence (the Partnership) advocating for $15 million in ongoing prevention funding for sexual and domestic violence.
This year, the state budget included $15 million in funding for domestic and sexual violence, and the budget previously allocated one-time funding for this purpose in the FY 18-19 and FY 19-20 budgets, at $10 million and $5 million respectively. We are deeply grateful for the administration's support for these funds. However, the one-time nature of the funding means that our state administrator, Cal OES, cannot plan for lengthy grant periods and community-based organizations cannot commit to the long term work needed to change societal norms and change our culture around consent and healthy relationships. Preventing violence and abuse so deeply embedded in our society will take time, and ongoing funding is critical for this work.
See the letter to Governor Gavin Newsom supporting this prevention budget request signed by over 100 organizations throughout the state.
The Importance of Early Sexual Assault Prevention Bianca Orozco, Community Education Coordinator at Standing Together Against Sexual Assault
Why It's Crucial to Fund Sexual Violence Prevention Efforts Holly Scala, Youth Educator at Standing Together Against Sexual Assault