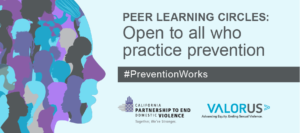 VALOR, in collaboration with the California Partnership to End Domestic Violence (the Partnership), invites you to join our Peer Learning Circles! The peer learning circles are ongoing opportunities to connect with our teams and people who practice prevention across the state. The Peer Learning Circles (PLC) are spaces for people who practice prevention to strategize through challenges that everyone faces, while creating connections that matter so much to all of us.
Below, you will find dates and times, as well as registration links for our meetings. We will send out topics and resources in advance of meetings, so please register at the links below to make sure we can reach you! If you have an idea or suggestion, please don't hesitate to let us know.
Language access and ASL interpretation is available on request.
Prevention with LGBTQ+ Communities
Together we explore strategies to welcome LGBTQ+ communities into our prevention efforts, organizations and communities to deconstruct harmful norms that have excluded folks in the past. Past topics have included asexuality, prevention and the kink community, LGBTQ+ advisory group best practices, and more.
Safer School Communities:
This is a space for people who practice prevention working across K-12 campuses. Whether connecting in-person or virtually, schools can be a challenge. Together we learn how to engage, build champions on campus and celebrate those fabulous flops that teach us so much. You're welcome to bring your champions on campus to learn together on what makes for a safer school community!
Prevention Supervisors:
Supervising prevention programs often requires mastery level juggling and relationship skills but does not always have an equivalent level of training and support as we enter these roles. Prevention programs and management often require experience that are unique to our roles. It can be a little lonely out there! This space will work to build community among prevention supervisors for support, building leadership and management skills, and program development.
Prevention in Spanish (Prevención en Español): Coming soon!