An Open Letter to All Who Fight to End Sexual Violence: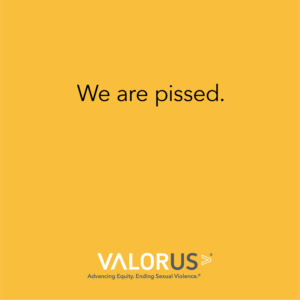 We are pissed. Today's Supreme Court ruling says that there is no constitutional right to an abortion and by extension, reproductive health care. Some say this is about a right to life. But those of us in the movement to end sexual violence know what this is really about: it's about a male dominated society exerting power and control over anyone able to give birth. Doing so controls their economic, political, and social freedom and mobility. It hardens state and economic power among the few, and decimates our ability to foster liberty and justice for all.
We grieve today because the Supreme Court confirmed what those of us in this movement have known far too long: that some people do not have the right to self-determination and personhood. We grieve today because, in this decision, the Supreme Court shirks its responsibility to ensure equal protection for all. We grieve for our advocates working to end sexual violence in states hostile to reproductive rights: We stand united because this fight belongs to all of us.
To be clear, the right to bodily autonomy and choice has never been a universal right, especially for those most impacted by social inequities. But to retract what little access to health rights people in this country have only feeds the power, control, and dominance of others. Who amongst us believes that the attack on basic rights will end with the right to choose? We are standing at a tipping point in the United States and Roe v Wade is only the first step in a calculated affront to our universal basic rights to live freely.
Today, we are pissed. We who have fought for over five decades as a rights movement know how this will make our work to end sexual violence more difficult – our anger is only matched by our fatigue. To the rape crisis centers & programs, coalitions, sexual violence prevention practitioners, reserachers, forensic nurses, community organizers, government workers,  teachers, mentors and healers, we see you. We see your fatigue. We see the work you put into this movement every day in the midst of continuous attacks on your communities.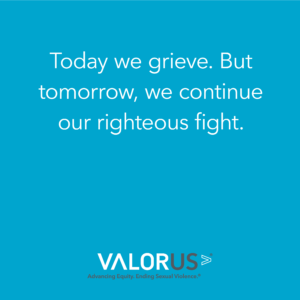 Today we grieve.  But tomorrow, we continue our righteous fight. Today's Supreme Court ruling makes clear that it is up to us: we define "we the people," and determine we are united under the principle of rights for all. We will rally for passage of the Women's Health Protection Act. We will reach out to those working to end sexual violence across state lines that will be most impacted by this ruling. We will continue to build solidarity across movements to advance equity.