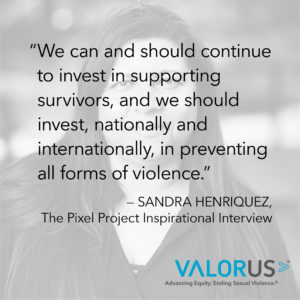 VALOR's CEO, Sandra Henriquez was featured this month in The Pixel Project's Inspirational Interview.  In Part 1, Sandra shared how she started in the movement to end violence against women:
"I didn't know I was joining a movement, but I joined by taking a self-defense class, which taught women how to build empowerment skills in awareness, assertiveness and physical self-defense techniques. From there I became interested in the work that was happening at that time in California — to help survivors, to provide peer counseling — and I just got sucked in. I became really interested in how everyday people could actually help those that had become victimised, and help to prevent this from happening to others."
In Part 2, Sandra describes the need to invest in prevention:
"We can and should continue to invest in supporting survivors, and we should invest, nationally and internationally, in preventing all forms of violence. Because we know that it is preventable, but we just don't invest enough in efforts to do so."
In 2014 VALOR's David Lee was featured in a Pixel Project Inspirational Interview.