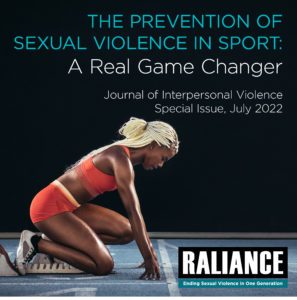 Through the  national partnership RALIANCE, VALOR staff have contributed to the Journal of Interpersonal Violence's July 2022 special issue  The Prevention of Sexual Violence in Sport: A Real Game Changer. David S. Lee is a co-editor of this special issue along with Drs. Keith L. Kaufman, Jeffrey J. Milroy, and Anita Raj. He also contributed to "The Role of Theory in the Prevention of Sexual Violence in Sport," which investigates the role of sexual violence prevention theory in sport. The article explores the sport community's limited adoption of proven sexual violence prevention theory and the need for more theory-driven research aimed at preventing violence in sport.
Tori VandeLinde and Davdi Lee were co-authors of "Prevention of Sexual Violence in Sport: A Socioecological Review," a practically oriented prevention study that demonstrates the importance of incorporating a socioecological framework and policy structures into sexual prevention efforts in sport. It also explores the value of engaging peer groups, sport programs, communities, and institutions in prevention efforts.
Learn more in this RALIANCE blog.