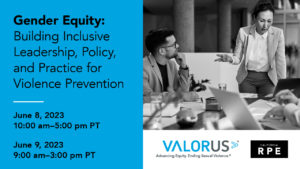 Please join us for our in-person Gender Equity: Building Inclusive Leadership, Policy, and Practice for Violence Prevention Training! It will take place at the Hilton Sacramento Arden West, CA on Thursday, June 8th from 10 am to 5 pm PT and Friday, June 9th from 9 am to 3 pm PT.
This training is open to all Rape Prevention Education (RPE) grantees, California Rape Crisis Centers, Sexual and Domestic Violence (SD) grantees, and other organizations committed to preventing sexual violence.
This training will provide an overview of gender equity, explore the intersections of sexism, heterosexism, transphobia, homophobia, and Sexual and Intimate Partner Violence (SV/IPV), and highlight areas of opportunity for increasing equity and preventing violence.
Learning Objectives:
Define gender equity.
Identify the ways in which gender oppression contributes to increased SV/IPV rates.
Identify gender equity approaches to reducing SV/IPV.
Register HERE.
Upon registering, you will receive a confirmation email with a link to book your hotel room at the Hilton Sacramento Arden West at our special event rate. VALOR has secured a limited number of hotel rooms at the rate of $95/night +fees and taxes. Register early (before May 18th, 2023) to secure this rate. If you wish to reserve your hotel room after May 18th, 2023, or have any questions, please contact Shelby Vice at svice@valor.us.
*If you are requesting ASL or Spanish interpretation you must register before May 18th, 2023 otherwise we cannot guarantee that we will be able to facilitate your request.