This week, VALOR staff traveled to Washington, D.C. to join sexual assault, domestic violence, and dual agency coalitions for the National Alliance to End Sexual Violence and the National Network to End Domestic Violence's Advocacy Days. On Day 1, staff heard from key federal leaders about their work to prevent and end sexual and domestic violence and their plans to continue to work collaboratively across departments to address the root causes that allow gender-based violence to occur. Speakers included Rosie Hidalgo, Senior Advisor on Gender-Based Violence and Special Assistant to the President, White House Gender Policy Council; Lynn Rosenthal, Director of Sexual and Gender-Based Violence, U.S. Department of Health and Human Services; Karlo Ng, Director of Gender-Based Violence Prevention and Equity, U.S. Department of Housing and Urban Development; Kristina Rose, Director of the Office for Victims of Crime, U.S. Department of Justice; Shawndell Dawson, Director of the Office of Family Violence Prevention and Services, Agency for Children and Families, U.S. Department of Health and Human Services; Melissa Schmisek, Interim Associate Director, Office on Violence Against Women, U.S. Department of Justice; and Beth Reimels, Associate Director for Policy, Partnership and Communication for CDC's Division of Violence Prevention, U.S. Department of Health and Human Services.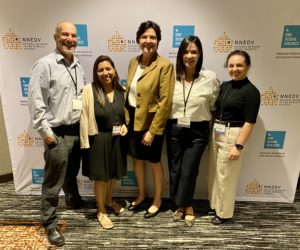 The first day was closed out with remarks from Representative Ayanna Pressley who shared about the weight of advocates and survivor voices has in Congress echoing, "The people closest to the pain should be the people closest to the power, and should be the people driving and informing the change!"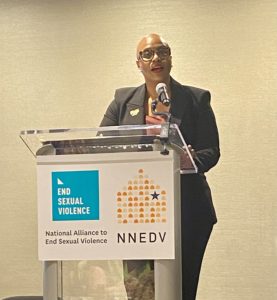 On the second day, staff met with members of Congress and brought in the stories of survivors, immigrants, farmworkers, advocates, California rape crisis centers, and so many others. VALOR shared about the positive impacts of current funding and the unmet needs that would be enhanced with additional funding through $1.9 billion in steady funding for the Victims of Crime Act Fund, $102 million towards the Rape Prevention & Education Program, and $15 million to address the needs of immigrant survivors. VALOR met with staff from Senator Alex Padilla's office and Senator Dianne Feinstein's office and talked about the current landscape of sexual violence prevention and programming across California. Additionally, VALOR met with Representative Judy Chu, and staff from Representatives Katie Porter, Sara Jacobs, Jim Costa, Maxine Waters, and Norma Torres.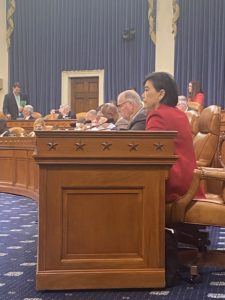 Our collective voice was heard loud and clear – funding allows us to do our important work, serve survivors, and advocate for needed change.