A year ago, the Supreme Court overturned the constitutional right to abortion through the dreaded Dobbs decision. While the erasure of Roe v. Wade left many across the U.S., and in the anti-sexual violence movement, reeling, reproductive justice advocates and women of color have been warning us this was coming. This decision was part of a larger coordinated attack that was set into motion 50 years ago and has been made incredibly clear that there is no end in sight. As this legislative session has unraveled, we've seen unprecedented rates of harmful legislation that bans access to abortion and contraception, attacks on racial equity, transgender rights, and gender equity, and further restricts individuals' rights to power and control.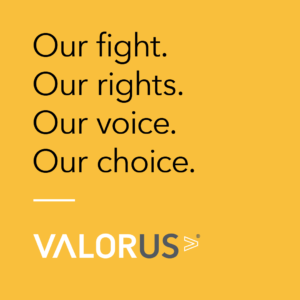 We allowed ourselves time to grieve, but we must come together to push back against these oppressive and harmful laws that further restrict the right to bodily autonomy. It is critical for us to work collectively to restore and enhance reproductive rights at the state and national level. As the anti-sexual violence movement, we cannot sit back and hope others will do this work. We must join alongside reproductive justice, gender justice, and other movements to restore these fundamental human rights. 
In California, you can support the passage of SB 345. Authored by Senator Nancy Skinner, SB 345 will build on California's existing laws to strengthen protections for health care practitioners and protect individuals fleeing abortion and gender-affirming care hostile states.
This is our fight to join, our work to support. This is about bodily autonomy, survivor autonomy, and the right to personhood. We the people, fight to control our lives. Onwards!
Read VALOR's previous statements on the intersection of sexual violence prevention and reproductive justice.
VALOR Statement on Overturning Roe v. Wade: An Open Letter to All Who Fight to End Sexual Violence
VALOR Statement on the Fifth Circuit Mifepristone Ruling
VALOR's Collective Action for Reproductive Freedom toolkit
Support SB 345 Strengthening and Protecting Access to Abortion, Contraception, and Gender-Affirming Care