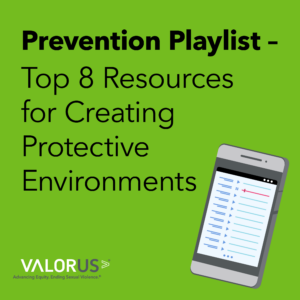 VALOR recently hosted a web conference on Creating Protective Environments for violence prevention and found several great program examples that are implementing protective environment strategies. Violence prevention strategies that improve perceived or actual safety and reduce opportunities for violence create protective environments for a specific group and the entire community. To see the recordings of this web conference, select HERE. 
Check out our playlist of program examples that create protective environments below: 

Highlighted on our first day of the web conference, All Children Thrive is one of those programs that focuses on sustainable policy change centering youth and their families in their prevention work. They work to gather data, raise awareness around ACEs prevention and social determinants of health as well as bring resources and connection opportunities to folks doing similar work across the state. One of the unique features of this program is that they have a process mapping strategy with their funded projects that breaks down the policy campaign process with a step-by-step guide. Check it out HERE. 

2. Youth Advocacy Department of San Diego Unified School District (SDUSD)  
The work that the Youth Advocacy Department of SDUSD has done to help create protective environments for LGBTQ+ youth was something that we highlighted during day two of our web conference. One of the strategies they discussed was the implementation of a policy change on a district level, and how they continued to monitor the implementation of the resolution. Check out the web conference slides and much more HERE.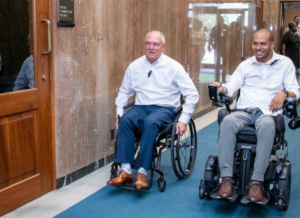 Roll with Me is a program in which Mark Raymond Jr., CEO of the Split Second Foundation, invites local civic leaders to navigate their cities in wheelchairs. He hopes the effort will help them better understand the experiences of wheelchair users. This highlights the need for improvement in their city to create safe environments for all community members and how improving the safety of one population, can increase the safety for all people and prevent multiple forms of violence. Learn more about Roll With Me HERE.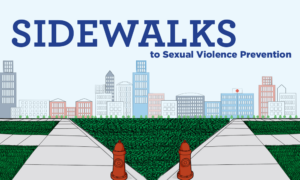 4. Sidewalks to Sexual Violence Prevention 
This resource is absolutely amazing and focuses on developing community solutions to increase the inclusion of folks with unique barriers such as developmental or intellectual disabilities in neighborhoods, public spaces, and businesses. The Indiana Coalition Against Domestic Violence has done such great work around disability justice and this is just one great example. This guide walks you through how to measure community data, organize around social mapping, and advocate for change. To learn more about the guide, go HERE.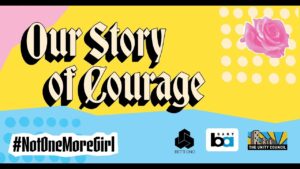 If you're interested in learning more about how to collaborate with non-traditional partners around sexual violence prevention, this program is a great example. The Not One More Girl campaign looks to spread awareness and provide resources and support to folks using the BART public transit system in California and end gender-based violence and harassment in transit systems. It's also a great example of BIPOC youth-led community mobilization. To learn more about this innovative campaign, go HERE.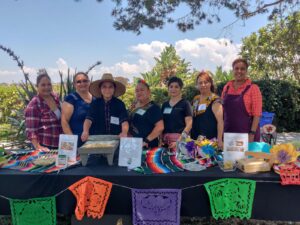 Olivewood Gardens and Learning Center works to inspire multiple generations of community members to be healthy and active citizens in their community through education and engagement around gardening, nutrition, and environmental stewardship. One of their most successful programs looks at increasing community connection and financial security through their Kitchenistas Community Engagement Program. In this program, community members learn about nutrition and health, as well as leadership development, public speaking, emotional well-being, and financial literacy. Learn more about their program HERE.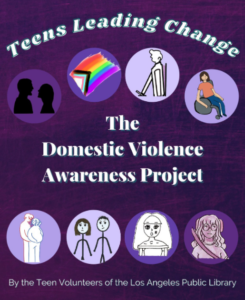 During the web conference, we also highlighted one of our favorite community mobilization projects, the Close to Home model. We discussed the work of the Close to Home projects at Valley Crisis and Strength United through their community beautification and youth-led graphic novel projects. The goal of this project is to help support community leaders in the community to help engage other members in order to create change within their communities. To learn more about the Close to Home program, check out our web conference that highlighted the program, HERE.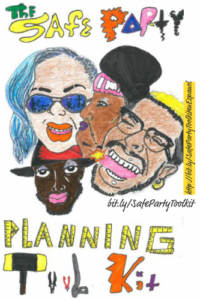 8. Safe OUTside the System Collaborative  
To close out this awesome playlist, we have one of our most creative strategies yet! The Safe OUTside the System Collaborative is an anti-violence program led by Lesbian, Gay, Bisexual, Two-Spirit, Trans, and Gender Non-conforming People of Color who are committed to challenging the hate and police violence in their communities by using and creating community-based anti-violence strategies rather than law enforcement. They created this incredible SafeParty Toolkit ZINE that works to create a safe space for partygoers and a community where violence isn't tolerated. To access this Zine and learn more about the project, go HERE. 
How is your prevention programming changing how your community, works, plays, and lives?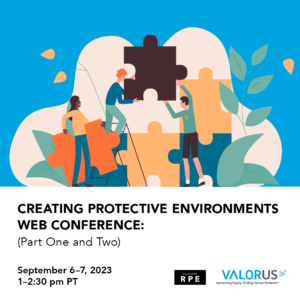 For more information about protective environments and violence prevention, check out our Creating Protective Environments two-part series! You can find the materials and recordings of the web conference HERE.