This is a guest blog post by Lisa Fujie Parks of Prevention Institute. 
PreventConnect's David Lee participated in a September 2017 gathering of domestic violence and sexual violence prevention advocates and representatives from the public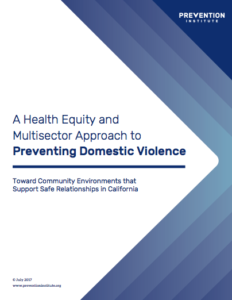 health, housing, and community development sectors. The meeting included partners from 4 California communities along with state partner organizations. The gathering was held at Prevention Institute, in Oakland, California as part of the Sectors Acting for Equity (SAFE) project with generous support from the Blue Shield of California Foundation. In addition to building relationships and understanding across communities, sectors, and movements, the gathering offered the opportunity to discuss a new Prevention Institute (PI) report that draws the connection between community environments and health and safety in our intimate relationships.
David Lee was interviewed for the report, and is quoted as stating,
"Prevention requires us to look at what is behind problems to identify the specific behaviors and the risk and protective factors associated with them. In primary prevention we then go further by asking what conditions in the environment contribute to and shape those behaviors."
– David Lee, California Coalition Against Sexual Assault
Community environments that support safe relationships include those with norms that support gender equity and engagement in family matters, strong community responses to domestic violence, and housing and economic stability, among other factors. Addressing the drivers of inequities, such as unequal access to power and resources, is necessary to ensure that everyone has greater opportunities for access to the community conditions that support safe relationships, regardless of race, class, age, gender, sexual orientation, and other factors.
With support from Blue Shield of California Foundation, PI's Sectors Acting for Equity (SAFE) project informs and strengthens a statewide approach to preventing domestic violence in California. Developed as part of the SAFE project, the new report acknowledges and builds on domestic violence prevention work taking place throughout the state and country. It also offers updated research, analysis, and next steps to systematically address this complex problem, including inequities in rates of domestic violence. The report identifies opportunities to shape community factors for 13 different sectors, including the public health sector and domestic violence services sector, as critical leaders and partnership-builders. It offers a method for multiple sectors to identify joint strengths, strategies, and outcomes to increase their effectiveness and impact.
By naming the factors that can create the conditions for safety and by honoring existing assets, this approach emphasizes strengths and resilience. Applying principles of health equity, the framework shows that community-level prevention and community-level intervention can be mutually supportive. In this way, California can address the needs of domestic violence survivors who are most marginalized and the communities to which they belong, in a manner that supports both healing from and prevention of domestic violence.
Many of the examples of action included in the report address both sexual violence and domestic violence. The report advocates for a holistic and inclusive approach to domestic violence prevention that includes state and local partners addressing sexual violence and community violence.
To read the report, learn about the approach, and get involved in the work moving forward in California, visit the Sectors Acting for Equity (SAFE) project web page or contact Lisa Fujie Parks or Morgan Croce at lisa@preventioninstitute.org and morgan@preventioninstitute.org.