Originally posted on PreventConnect by Ashleigh Klein-Jimenez 
The annual global campaign to end gender-based violence runs November 25th (the International Day for the Elimination of Violence against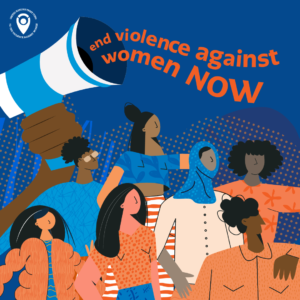 Women) through December 10th (Human Rights Day).
This year marks the 30th anniversary of the 16 Days of Activism against Gender-Based Violence. The campaign began in 1991 by activists at the Women's Global Leadership Institute and has become an organizing effort to focus on prevention and to end violence against women and girls worldwide. This year's global theme is "Orange the World: End Violence against Women Now!"
The Centers for Disease Control and Prevention (CDC) will observe the campaign this year with their own theme, "From 16 to 365 days of action." As a partner in the President's Emergency Plan for AIDS Relief (PEPFAR), CDC recognizes violence as a barrier to HIV epidemic control and includes gender-based violence prevention as a priority area for PEPFAR programming.
Next week, PreventConnect will commemorate 16 Days of Activism against Gender-Based Violence with a web conference examining global perspectives and lessons on preventing sexual and intimate partner violence from practitioners working outside of the United States. Join PreventConnect on December 8th to explore how global prevention strategies can inform the work of U.S.-based prevention practitioners.
Register for From Global to Local: Learning From International Prevention Programs to Inform Sexual and Intimate Partner Violence Prevention in the U.S. here.
Download the #OrangeTheWorld social media package here.
Learn more about CDC's global gender-based violence prevention and response work here.